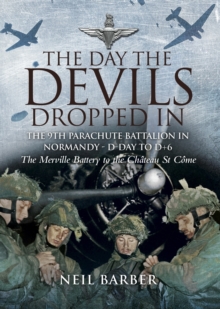 The day the Devils dropped in : the 9th Parachute Battalion in Normandy, D-Day to D + 6
1844150453 / 9781844150458
Usually dispatched within 2 weeks
Reprint. Originally published: 2002.
Examines the pivotal role of the 9th Battalion of the Parachute Regiment over the first week of the landings.
Tasked with neutralizing the mighty Merville Battery, capturing Le Plein and the Ch'teau St C'me, failure by the Paras to achieve any of these key objectives could well have unravelled the whole OVERLORD operation with catastrophic consequences.
Neil Barber has successfully tracked down surviving participants in the operation and as a result he is able to tell the full story of the fierce fighting that characterised the early days of the landings.
BIC:
1D Europe, 3JJH c 1939 to c 1945 (including WW2), HBJD European history, HBWQ Second World War, JWTR Regiments