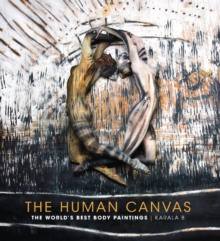 The Human Canvas : The World's Best Body Paintings
1440337004 / 9781440337000
Stock expected by 21/04/2021
279 x 305 mm 208 pages, 400 Illustrations, color
"The human body is the most beautiful thing to us, both inside and out." --Nick & Brian Wolfe Inside the Magical World of Bodypainting From fine art to fashion and from advertising to competition, the world of bodypainting is vast and beautiful.
With The Human Canvas you will get front row seats to the pageantry of mind-blowing images from accomplished artists around the world.
Many of these artists have won the coveted championship at the World Bodypainting Festival and every one holds a special place within this secret, joyful world of creativity and art.
With gorgeous images and inside peeks into the minds and processes of the artists, this book will inspire and amaze you. This book was inspired by the World Champion artists Brian Wolfe, who succumbed in his fight against pancreatic cancer in October 2013.
A portion of the proceeds from this project will go to support Brian Wolfe's wife and young daughter. About the World Bodypainting Festival The World Bodypainting Festival in Austria has been one of the driving forces in bodypainting over the past two decades.
This event hosts the World Bodypainting Championships and has distinguished and encouraged the art form. Receiving hundreds of hours of broadcast time each year, the World Bodypainting Festival has carried this art form into the consciousness of everyday people on almost every continent.
It has brought together a massive artistic community with years of history, creativity and experience. "Imagine a painter who can create an image from an idea in the fullness of color, design and expression, and then imagine this artist asking their canvas to sing, dance or scream." --Karala B.
BIC: