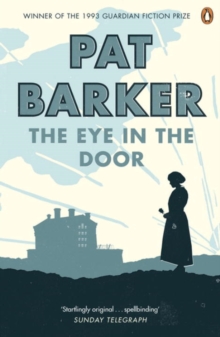 The eye in the door
0141030941 / 9780141030944
Reprint. Originally published: London: Viking, 1993.
The masterful second novel in Pat Barker's classic 'Regeneration' trilogy - from the Booker Prize-winning and Women's Prize-shortlisted author of The Silence of the GirlsWINNER OF THE 1993 GUARDIAN FICTION PRIZE'Spellbinding and startlingly original' Sunday Telegraph'Gripping, moving, profoundly intelligent' Independent on Sunday'A new vision of what the First World War did to human beings, male and female, soldiers and civilians' A.
S. Byatt, Daily TelegraphLondon, 1918. Billy Prior is working for Intelligence in the Ministry of Munitions.
But his private encounters with women and men - pacifists, objectors, homosexuals - conflict with his duties as a soldier, and it is not long before his sense of himself fragments and breaks down.
Forced to consult the man who helped him before - army psychiatrist William Rivers - Prior must confront his inability to be the dutiful soldier his superiors wish him to be.
The Eye in the Door is a heart-rending study of the contradictions of war and of those forced to live through it. The Regeneration Trilogy:RegenerationThe Eye in the DoorThe Ghost Road
BIC:
FA Modern & contemporary fiction (post c 1945), FJMF First World War fiction