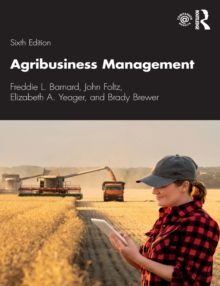 Agribusiness management (Fifth edition)
0367341948 / 9780367341947
540 pages : illustrations (black and white).
Postgraduate, Research & Scholarly Learn More
Undergraduate
Previous edition: published as by Freddie L. Barnard, Jay T. Akridge, Frank J. Dooley, John C. Foltz, Elizabeth Yeager. 2016.
This sixth edition of Agribusiness Management provides students and managers with a fundamental understanding of the key concepts needed to successfully manage agribusinesses in a rapidly changing, high-tech, consumer-oriented, and uncertain world. The text uses four specific approaches to help readers develop and enhance their capabilities as agribusiness managers.
First, it offers a contemporary focus that reflects the issues that agribusiness managers face today and are likely to face tomorrow.
Second, the book presents conceptual material in a pragmatic way with illustrations and examples that will help the reader understand how a specific concept works in practice.
Third, the book has a decision-making emphasis, providing contemporary tools that readers will find useful when making decisions in the contemporary business environment.
Finally, Agribusiness Management offers a pertinent set of discussion questions and case studies that will allow the reader to apply the material covered in real-world situations.
This edition has been updated throughout with new examples and data, as well as additional material on succession planning and managing human resources. This book is an ideal text for all courses on management in the agribusiness industry.
The work is fully supported by a Companion Website which provides users with additional materials such as multiple choice questions, discussion questions, and PowerPoint slides for each chapter.
BIC:
KCD Economics of industrial organisation, KNAC Agriculture & related industries, TVB Agricultural science