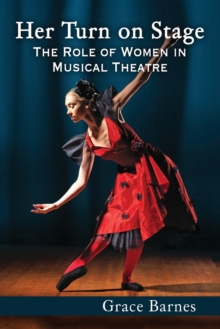 Her turn on stage : the role of women in musical theatre
0786498617 / 9780786498611
Stock expected by 18/04/2020
Postgraduate, Research & Scholarly Learn More
Undergraduate
Audiences for musical theater are predominantly women, yet the shows onstage are frequently created and produced by men.
Onstage, female characters are often victims or sex objects and lack the complexity of their male counterparts.
Offstage, women are under-represented among writers, directors, composers and choreographers.
While other areas of the arts rally behind gender equality, musical theater seems to demonstrate a disregard for women. If musical theater reflects prevailing attitudes, what does the modern musical tell us about attitudes towards women in America, the UK and Australia?
Are women kept out of musical theater by men jealously guarding their territory or is the absence of women a result of commercialization and mechanization of the genre?
Based on interviews with women performers, writers, directors, choreographers and executives, this book addresses these questions and offers a female viewpoint on musical theater today.
BIC: