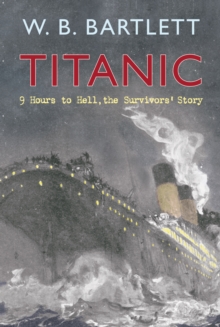 Titanic : 9 hours to hell, the survivors' story
1848684223 / 9781848684225
Usually dispatched within 2 weeks
24 cm 352 p., [32] p. of plates : ill. (some col.), maps, ports.
A major new history of the disaster that weaves into the narrative the first-hand accounts of those who survived.
It was twenty minutes to midnight on Sunday 14 April, when Jack Thayer felt the Titanic lurch to port, a motion followed by the slightest of shocks.
Seven-year old Eva Hart barely noticed anything was wrong.
For Stoker Fred Barrett, shovelling coal down below, it was somewhat different; the side of the ship where he was working caved in.
For the next nine hours, Jack, Eva and Fred faced death and survived.
They lived, along with just over 700 others picked up by 08.30 the next morning.
Over 1600 people did not. This is the story told through the eyes of Jack, Eva, Fred and over a hundred others of those who survived and either wrote their experiences down or appeared before the major inquiries held subsequently.
Drawing extensively on their collective evidence, this book weaves the narrative of the events that occurred in those nine fateful hours.
The stories of some are discussed in detail, such as Colonel Gracie, a first-class survivor, and Lawrence Beesley, a schoolteacher, who both wrote lengthy accounts of their experiences. No less fascinating are the accounts of those who gave gripping evidence to the inquiries, people like the controversial Lady Lucille Duff-Gordon, steward John Hart who was responsible for saving the lives of the majority of the third-class passengers who lived, or Charles Joughin, the baker, who owed his survival to whisky.
This is their story, and those of a fateful night, when the largest ship ever built sank without completing one successful voyage.
BIC:
1DB British Isles, 1KBB USA, 3JJC c 1900 - c 1914, HBTM Maritime history