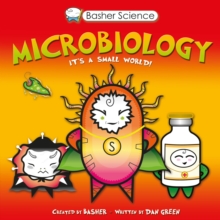 Microbiology
Part of the Basher series
0753437473 / 9780753437476
Stock expected by 27/11/2019
18 cm 128 pages : illustrations
Discover life's smallest secrets in the world of microbiology. Welcome to the world of microbes and minibeasts! Do you know your parasites from your protists? In Basher Science: Microbiology you can discover the tiny and almost-invisible microbes that make up the building blocks of life.
Find out who are the heroes and the villains of the invisible world of microbiology.
Basher's highly original books explain difficult scientific concepts in ingenious ways, making them tangible, understandable and even lovable.
Chatty first-person text and stylish, contemporary character illustrations give a voice, personality and story to each topic - it's a truly brilliant way to communicate science. Thousands of children already love discovering the Basher universe.
Basher Science: Microbiology is a compelling guide to this highly relevant scientific topic.
BIC:
YNT Science & technology: general interest (Children's / Teenage), YQSB Educational: Biology