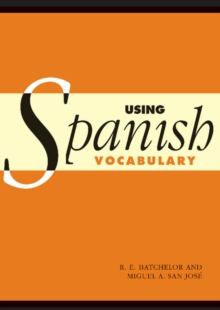 Using Spanish vocabulary
052100862X / 9780521008624
Usually dispatched within 4 weeks
research & professional Learn More
academic/professional/technical
This book provides a comprehensive and structured vocabulary for all levels of undergraduate Spanish courses.
It offers a broad coverage of the concrete and abstract vocabulary relating to the physical, cultural, social, commercial and political environment, as well as exposure to commonly encountered technical vocabulary.
The accompanying exercises for private study and classroom use are designed to promote precision and awareness of nuance and register, develop good dictionary use, and encourage effective learning.
The book includes both Iberian and Latin American vocabulary, and clearly identifies differences between the two varieties.
Consists of twenty units each treating a different area of human experience Units are divided into three levels which allows core vocabulary in each area to be learned first, and more specialised or complex terms to be added at later stages Vocabulary is presented in alphabetical order for ease of location Includes 1000 exercises and 200 solutions, available online at the URL http://publishing.cambridge.org/resources/052188962X
BIC: