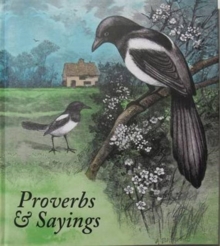 0956381847 / 9780956381842
250 x 285 mm 48 pages, 25 black & white and full colour illustrations
When someone has dementia, traditional books can become incomprehensible and meaningless.
This title from the popular range of Pictures to Share books is designed to be accessible and entertaining for anyone with mid to later stage dementia who may remember traditional British proverbs and sayings and need a prompt to help them talk about it.
The range of beautiful and powerful pictures and short texts combine to remind older people of things they may have forgotten.
Designed to take the reader back to days that may still be fresh in their minds.
All the images are powerful and easy to understand, and prompt lots of memories and discussion between those with Alzheimer's or other dementia and their family, friends and carers.
Even when people with dementia can no longer hold a conversation they will enjoy looking through the book and studying the pages.
Arranged in a clear and easy to understand format, the book is recommended for those with dementia by the Reading Well, Books on Prescription scheme in England.
BIC:
MJND Alzheimer's & dementia, VFJB Coping with illness & specific conditions, VFJG Coping with old age