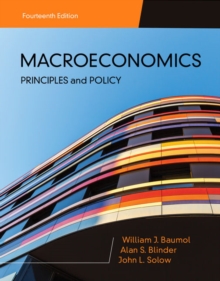 Macroeconomics : principles and policy (Fourteenth edition)
1337794988 / 9781337794985
Stock expected by 04/07/2022
Master today's principles of macroeconomics and gain an understanding of current economic issues with the solid introduction and policy-based examples and applications found in Baumol/Blinder/Solow's MACROECONOMICS: PRINCIPLES AND POLICY, 14E.
Written by three of today's most respected economists, this book is one of the most up-to-date macroeconomics texts on the market -- incorporating data and issues as recent as 2018.
The authors combine the right level of rigor and detail to clarify even the most complicated macroeconomic concepts.
An entirely new chapter closes the book by delving into some of the most important issues confronting the U.S. economy today. Throughout this edition, well-developed examples, intriguing puzzles and meaningful macroeconomic issues provide an excellent balance of theory to application while keeping you engaged and intrigued.
BIC: