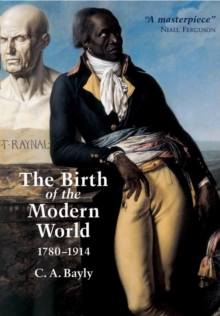 The birth of the modern world, 1780-1914 : global connections and comparisons
0631236163 / 9780631236160
25 cm xxiv, 540 p. : ill.
postgraduate Learn More
research & professional
undergraduate
Covering the period 1780 - 1914, The Birth of the Modern World shows how events in Asia, Africa, and South America - from the decline of the eighteenth-century Islamic empires to the anti-European Boxer rebellion of 1900 in China - had a direct impact on European and American history. And conversely, how the "ripple effects" of crises such as the European revolutions and the American Civil War worked their way through to the rest of the world.
None of the great themes of the nineteenth-century world - the rise of the modern state, industrialisation, liberalism, imperialism, and the progress of world religions - is untouched by the novel perspectives of this compelling new history.
BIC:
3JF c 1700 to c 1800, 3JH c 1800 to c 1900, 3JJC c 1900 - c 1914, HBG General & world history, HBLL Modern history to 20th century: c 1700 to c 1900, HBWN First World War