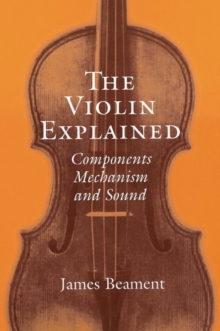 The violin explained : components, mechanism, and sound
0198167393 / 9780198167396
Stock expected by 17/12/2019
Reprint. Originally published: London: Clarendon, 1997.
There are more curious beliefs about the violin than any other instrument.
Physicists have now discovered how the violin family produce their sound, but this knowledge is not generally accessible to players and makers.
In this book, now available in paperback, Sir James Beament, a distinguished scientist with a livelong involvement with musical instruments, explains, without asssuming any scientific background, how strings vibrate, and the role played by the bow, bridge, and body in producing sound.
Those discoveries do not give a satisfactory explanation of what we hear, and the core of the book explains how the sound relates to the sensations it produces.
This leads to the conclusion that most of the myths about violins are groundless, but also that nothing can be achieved by applying modern technology to making or playing.
Practical advice on strings, maintenance, purchase and children's instruments completes the discussion.
BIC: