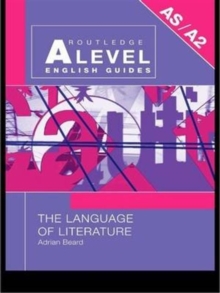 The language of literature
0415286328 / 9780415286329
Usually dispatched within 2 weeks
The Language Literature provides a framework for analysing language.
It explores how writers use literary language to create literary texts, and helps students use language successfully in their own writing.
Key features: Covers key skills and topics, including structure, genre, narrative and narrators, representing talk and intertextuality Offers a step-bystep guide to approaching the language of literary texts and structuring a response Examples of literary texts are taken from a wide variety of periods and genres.
Relevant AOs: Language: AO1, AO3, AO5 Literature: AO1, AO2, AO3, AO4, AO5 Language and Literature: AO1, AO2, AO3, AO4, AO5.
BIC:
2AB English, 4KL Designed / suitable for A & AS Level, CF linguistics, DSB Literary studies: general