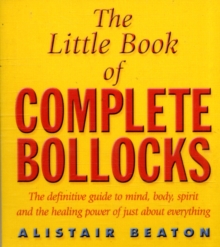 The little book of complete bollocks
0671037676 / 9780671037673
It is sad that the original meaning of bollocks has been corrupted for in this little book lies profound wisdom.
After all, size is not everything. Be kind to yourself. Give yourself treats. Leave little love letters to yourself around the house where you can discover them by chance when hoovering.
Start your new life now. Don't read the T-shirt. Buy this book. 144 insights that will change your life.
BIC: