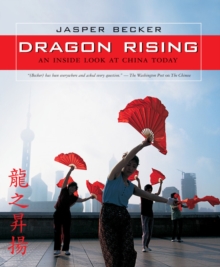 Dragon rising : an inside look at China today
1426201168 / 9781426201165
Stock expected by 05/04/2020
23 cm 264 p. : ill. (chiefly col.)
Reprint. Originally published: 2006.
Becker is the ideal guide to the profound changes within China that are reshaping global economic, diplomatic, and military strategies.
He weaves analysis with anecdotes to address today's pressing uncertainties: How will China cope with pollution, unemployment, and demand for energy?
What form will its government take? Can Shanghai's success with urban capitalism be replicated elsewhere?
Each chapter focuses on a specific region and its local issues-minority unrest, poverty, corruption-then places them in the broader context of China society as a whole.
Vividly illustrated with photographs that capture the paradox of an ancient culture remaking itself into a dynamic consumer society, Dragon Rising is a wonderfully written, well-rounded, wide-ranging portrait of China's problems and prospects.
BIC:
1FPC China, HBJF Asian history, HBLW3 Postwar 20th century history, from c 1945 to c 2000