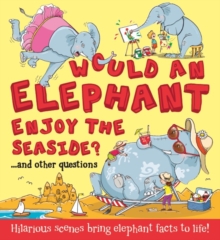 Would an elephant enjoy the seaside?...and other questions
Part of the What if a series
1781716676 / 9781781716670
26 cm 24 unnumbered pages : chiefly illustrations (colour), map (colour)
Reprint. Originally published: 2015.
Imagine if an elephant came with you to school for a day!
What might she get up to? She might be too loud for the library; elephants raise their trunks and trumpet very loudly when they talk!
Discover amazing and unusual facts about elephants in this hilarious picture book.
With humorous scenarios and everyday comparisons young readers can relate to, this is the perfect introduction into the life of a elephant.
Jam-packed with animal facts and information, kids will love the friendly and colourful artwork in this delightful non-fiction book.
BIC:
Title Unavailable: Out of Print