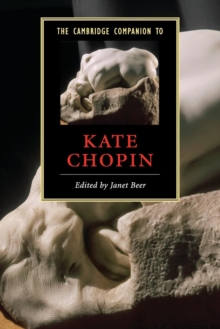 The Cambridge companion to Kate Chopin
0521709822 / 9780521709828
Usually dispatched within 4 weeks
Professional & Vocational Learn More
Tertiary Education (US: College)
Although she enjoyed only modest success during her lifetime, Kate Chopin is now recognised as a unique voice in American literature.
Her seminal novel, The Awakening, published in 1899, explored new and startling territory, and stunned readers with its frank depiction of the limits of marriage and motherhood.
Chopin's aesthetic tastes and cultural influences were drawn from both the European and American traditions, and her manipulation of her 'foreignness' contributed to the composition of a complex voice that was strikingly different to that of her contemporaries.
The essays in this Companion treat a wide range of Chopin's stories and novels, drawing her relationship with other writers, genres and literary developments, and pay close attention to the transatlantic dimension of her work.
The result is a collection that brings a fresh perspective to Chopin's writing, one that will appeal to researchers and students of American, nineteenth-century, and feminist literature.
BIC:
1KBB USA, 2AB English, DSBF Literary studies: c 1800 to c 1900 , DSK Literary studies: fiction, novelists & prose writers