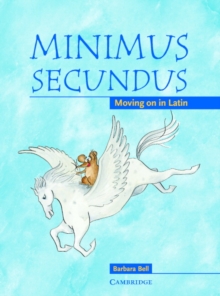 Minimus secundus : moving on in Latin: Pupil's book
Part of the Minimus series
052175545X / 9780521755450
Minimus Secundus is the sequel to the unique and successful Primary Latin book, Minimus.
Continuing the precedent set by Minimus, Minimus Secundus combines the comprehensive teaching of Latin vocabulary and grammar with a fascinating look at the culture of Roman Britain.
Minimus the mouse accompanies characters based on a real family who lived in AD 105, and invites us to witness their day-to-day lives, customs and events, whilst building on the Latin language.
Roman and Greek myths are also intertwined in the family's story, as are photos of genuine Roman artefacts discovered recently in archaelogical digs.
Opportunities to expand on class work and further practice of grammatical structures is provided on photocopiable worksheets.
English language work is also supported, with regular identification of Latin roots to explain the meanings of modern English words.
BIC:
2ADL Latin, 4KHJ For National Curriculum Key Stage 2, 4KHN For National Curriculum Key Stage 3, YQF Educational: Languages other than English