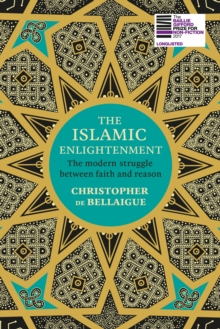 The Islamic enlightenment : the modern struggle between faith and reason
1847922414 / 9781847922410
24 cm xxxiv, 398 pages, 16 unnumbered pages of plates : illustrations (black and white, and colour)
SHORTLISTED FOR THE BAILLIE GIFFORD PRIZESelected as a book of the year 2017 by the Times Literary Supplement and the Sunday Times ('At a time when the gulf between Islam and the West yawns distressingly wide, De Bellaigue's book is a welcome and surprising corrective' Dominic Sandbrook, Sunday Times)'The best sort of book for our disordered days: timely, urgent and illuminating' Pankaj Mishra'It strikes a blow ... for common humanity.' Sunday TimesThe Islamic Enlightenment: a contradiction in terms?The Muslim world has often been accused of a failure to modernise, reform and adapt.
But, from the beginning of the nineteenth century to the present day, Islamic society in its Middle Eastern heartlands has in fact been transformed by modern ideals and practices, including the adoption of modern medicine, the emergence of women from purdah and the development of democracy.
Who were the scholars and scientists, writers and politicians that brought about these remarkable changes? And why is their legacy now under threat? Beginning with the dramatic collision of East and West following Napoleon's arrival in Egypt, and taking us through 200 tumultuous years of Middle Eastern history, Christopher de Bellaigue introduces us to key figures and reformers; from Egypt's visionary ruler Muhammad Ali to brave radicals like Iran's first feminist Qurrat al-Ayn and the writer Ibrahim Sinasi, who transformed Ottoman Turkey's language and literature. This book tells the forgotten story of the Islamic Enlightenment.
It shows us how to look beyond sensationalist headlines to foster a genuine understanding of modern Islam and Muslim culture, and is essential reading for anyone engaged with the state of the world today.
BIC: