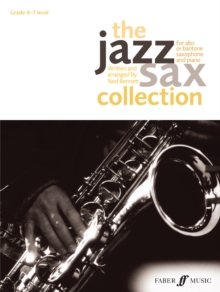 The jazz sax collection : for alto or baritone saxophone and piano
0571537642 / 9780571537648
31 cm 1 volume of music (27 pages)
The Jazz Sax Collection (Alto/Baritone Saxophone) is an unmissable selection of authentic jazz, written and arranged by professional jazz saxophonist Ned Bennett for Intermediate to Advanced-level players (approximately Grade 4 to 7).
It includes accompanied and unaccompanied pieces, featuring well-known jazz standards, with opportunities for improvisation within selected pieces, together with performance notes and listening suggestions.
Audio demo and backing tracks of all the pieces will be available online at fabermusicstore.com/jazzsaxcollection.
BIC: