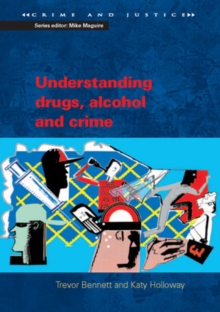 Understanding drugs, alcohol and crime
0335212573 / 9780335212576
Stock expected by 23/04/2021
research & professional Learn More
academic/professional/technical
What is the connection between drugs, alcohol and crime?
What works in reducing drugs and alcohol-related crime?
The book provides a succinct overview of current theory and research on the links between drugs, alcohol use and crime.
It discusses the legal and social context of drug and alcohol use and identifies current levels of consumption.
Focusing on the UK context, it also takes into account international research where appropriate.
Detailed review of the research literature on the connections between drug use and crime Examines the current government anti-drugs policy and assesses the effectiveness of programmes that have been used to reduce drug and alcohol-related crime.
The book concludes that future government drugs policy should pay particular attention to the lessons learned from research on the connection between drug and alcohol use and crime.Ideal for criminology, criminal justice, social policy and social work students, this book will also be a useful source of information for policy makers, the police, probation workers, social workers, drugs and alcohol counsellors, treatment agencies, sentencers, voluntary agencies, Drug Action Teams, and others with an interest in research on drugs and crime.
BIC:
JFFH1 Drug & substance abuse: social aspects, JKV Crime & criminology