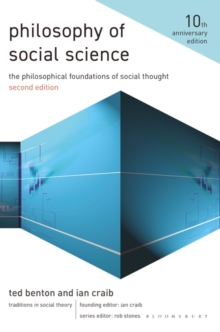 Philosophy of social science : the philosophical foundations of social thought (2nd edition 10th anniversary edition)
023024260X / 9780230242609
Previous edition: Basingstoke: Palgrave, 2001.
Philosophers and social scientists share a common goal: to explore fundamental truths about ourselves and the nature of the world in which we live.
But in what ways do these two distinct disciplines inform each other and arrive at these truths?
The 10th anniversary edition of this highly regarded text directly responds to such issues as it introduces students to the philosophy of social science. While staying true to the writing of the late Ian Craib, this perennial text has been brought up to date by Ted Benton.
This new edition includes previously unpublished personal insights from both authors, incorporates new commentaries on classic content and features an additional chapter on recent developments in the field. The book:* Addresses critical issues relating to the nature of social science* Interrogates the relationship between social science and natural science* Encompasses traditional and contemporary perspectives* Introduces and critiques a wide range of approaches, from empiricism and positivism to post structuralism and rationalism. Written in an engaging and student-friendly style, the book introduces key ideas and concepts while raising questions and opening debates.
A cornerstone text in the Traditions in Social Theory series, this book remains essential reading for all students of social theory.
BIC: