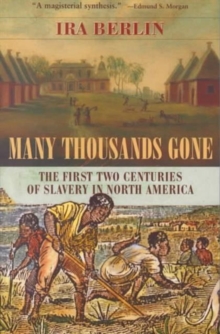 Many thousands gone : the first two centuries of slavery in North America
0674002113 / 9780674002111
postgraduate Learn More
research & professional
undergraduate
In the late 1990s, most Americans, black and white, identify slavery with cotton, the deep South, and the African-American church.
But at the beginning of the 19th century, after almost 200 years of African-American life in mainland North America, few slaves grew cotton, lived in the deep South, or embraced Christianity.
This text traces the evolution of black society from the first arrivals in the early-17th century through to the Revolution.
In telling their story, Ira Berlin, a leading historian of southern and African-American life, reintegrates slaves into the history of the American working class and into the tapestry of the nation.
Labouring as field hands on tobacco and rice plantations, as skilled artisans in port cities, or soldiers along the frontier, generation after generation of African-Americans struggled to create a world of their own making.
In a panoramic view that stretches from the North to the Chesapeake Bay and Carolina lowcountry, to the Mississippi Valley, this text reveals the diverse forms that slavery and freedom assumed before cotton was king. The reader witnesses the transformation that occurred as the first generations of creole slaves - who worked alongside their owners, free blacks, and indentured whites - gave way to the plantation generations, whose back-breaking labour was the sole engine of their society, and whose physical and linguistic isolation sustained African traditions on American soil.
BIC:
1KBB USA, HBJK History of the Americas, HBLH Early modern history: c 1450/1500 to c 1700, HBLL Modern history to 20th century: c 1700 to c 1900, HBTS Slavery & abolition of slavery, JFF Social issues & processes, JFSL1 Ethnic minorities & multicultural studies