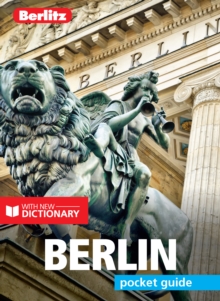 Berlin (Fourteenth edition)
1785732161 / 9781785732164
144 pages : illustrations, maps.
Berlitz Pocket Guide BerlinThe world-renowned pocket travel guide by Berlitz, now with a free bilingual dictionary. Compact, concise and packed full of essential information about where to go and what to do, this is an ideal on-the-move guide for exploring Berlin.
From top tourist attractions like the Brandenburg Gate, the Reischstag and the East Side Gallery on the remains of the Berlin Wall, to cultural gems, including a Trabant tour of the city, immersing yourself in Berlin's fascinating history at the Deutsches Historiches Museum and hitting local bars and clubs for a sample of the city's famed nightlife, plan your perfect trip with this practical, all-in-one travel guide.
Features of this travel guide to Berlin- Inspirational itineraries: discover the best destinations, sights and excursions, highlighted with stunning photography- Historical and cultural insights: delve into the city's rich history and culture, and learn all about its people, art and traditions- Practical full-colour map: with every major sight and listing highlighted, the full-colour maps make on-the-ground navigation easy- Key tips and essential information: from transport to tipping, we've got you covered- Dictionary: quick-reference bilingual language guide to help you with vocabulary - Covers: Kurfurstendamm; Tiergarten; Unter Den Linden; Museumsinsel; Alexanderplatz; Prenzlauer Berg; Charlottenburg; Dahlem; PotsdamGet the most out of your trip with: Berlitz Phrase Book & Dictionary GermanAbout Berlitz: Berlitz draws on years of travel and language expertise to bring you a wide range of travel and language products, including travel guides, maps, phrase books, language-learning courses, dictionaries and kids' language products.
BIC: