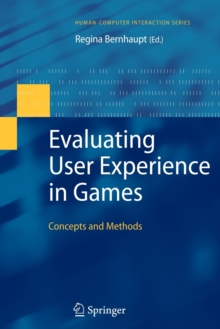 Evaluating user experience in games : concepts and methods
1447125576 / 9781447125570
24 cm xxviii, 258 p. : ill.
It was a pleasure to provide an introduction to a new volume on user experience evaluation in games.
The scope, depth, and diversity of the work here is amazing.
It attests to the growing popularity of games and the increasing importance developing a range of theories, methods, and scales to evaluate them.
This evolution is driven by the cost and complexity of games being developed today.
It is also driven by the need to broaden the appeal of games.
Many of the approaches described here are enabled by new tools and techniques.
This book (along with a few others) represents a watershed in game evaluation and understanding.
The eld of game evaluation has truly "come of age". The broader eld of HCI can begin to look toward game evaluation for fresh, critical, and sophisticated thi- ing about design evaluation and product development.
They can also look to games for groundbreaking case studies of evaluation of products.
I'll brie y summarize each chapter below and provide some commentary.
In conclusion, I will mention a few common themes and offer some challenges.
Discussion In Chapter 1, User Experience Evaluation in Entertainment, Bernhaupt gives an overview and presents a general framework on methods currently used for user experience evaluation.
The methods presented in the following chapters are s- marized and thus allow the reader to quickly assess the right set of methods that will help to evaluate the game under development.
BIC: