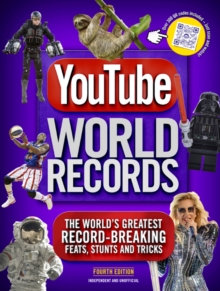 1787391612 / 9781787391611
28 cm 160 pages : illustrations
Super-powered with on-the-page links to over 300 amazing videos, YouTube World Records showcases the greatest feats ever recorded on the file-sharing website.
From the tallest and smallest to the greatest and maddest, YouTube World Records has it covered.
This unique collection contains a host of amazing feats, stunts and tricks - including pancake tossing and fiery-hot pepper eating, mega-quick drumming and unbelievable basketball slam-dunks.
This is the ultimate celebration of the world's greatest records.
BIC:
GBA General encyclopaedias, UDB Internet guides & online services, WHX Humour collections & anthologies