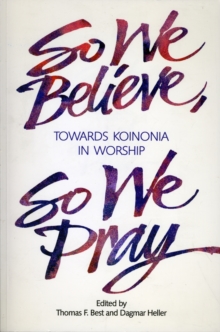 So We Believe, So We Pray
2825411590 / 9782825411599
Usually dispatched within 4 weeks
230 x 155 mm, 303 grams 152 pages
Worshipping and praying together have long been recognised as central to the quest for the visible unity of the church.
This book treats such topics as worship as an expression and experience of common faith, worship and culture, and local experiences of worship and unity in Latin America, Africa and India and in Orthodox and united congregations. "In common worship I experience the unity which the theologians only talk about." Many Christians would agree with this statement.
Yet worship remains one of the most sensitive areas ecumenically; and in fact Christians often appear most divided over issues of worship, particularly when they cannot join together at the Lord's table.
The book grew out of a remarkable meeting at which leading liturgical scholars, Protestant, Roman Catholic and Orthodox theologians, worship leaders, musicians and local pastors gathered for an ecumenical discussion of the scriptural and theological basis, practical possibilities and problems of Christian worship today.
Linking theory with practice, ranging from inculturation to icons, this volume includes papers by Gordon Lathrop, Anscar Chupungco O.S.B.,Janet Crawford and Thomas FitzGerald, as well as lively accounts from around the world of how Christians today are exploring issues of worship and unity.
BIC:
* Variable discounts between 0% and 15% are applied to items where BBfS cannot determine exact discounts from suppliers.