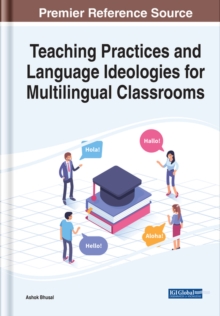 Teaching practices and language ideologies for multilingual classrooms
1799833399 / 9781799833390
While standard language ideology (SLI) is harmful in its exclusion of minorities through expression of language and race, translingualism provides a positive scaffolding characterized by the disposition of openness.
Translingualism suggests that each utterance creates meaning and is a direct rebellion against SLI.
It privileges unprivileged varieties of English over so-called Standard English.
In order to combat SLI, scholars have emphasized the need for congenial multicultural spaces where students can use their cultural and linguistic resources as an asset and which supports the idea of students learning from each other through their diversity.
Teaching Practices and Language Ideologies for Multilingual Classrooms is an essential scholarly publication that examines the educational necessities for diverse student populations and multilingual students and provides rich teaching resources for guiding the creation of classroom environments that engages multilingual students and supports their writing and problem-solving skill development.
Featuring a range of topics such as ethics, code-switching, and language education, this book is ideal for teachers, instructional designers, academicians, sociologists, administrators, language professionals, researchers, and students.
BIC:
CB Language: reference & general, CJ Language teaching & learning (other than ELT), JNFR Multicultural education, JNT Teaching skills & techniques