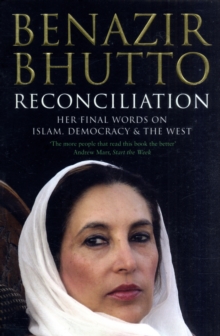 Reconciliation : Islam, democracy, and the West
1847393195 / 9781847393197
Stock expected by 04/04/2020
Originally published: London: Simon & Schuster.
Former Prime Minister Benazir Bhutto, the chairperson of the Pakistan People's Party, was seen as vital to that country's future.
In exile for years, in late 2007 she felt the time had come to actively re-engage and to return to the country she loved.
Part of that process was a clear-eyed assessment of where Pakistan was, and of the nature of its relationship with the West, with Islam, and with extremism.
In this important new book, completed just days before her assassination, Ms Bhutto demonstrats that extremism is not inherent to Islam, but that various factors, including some policies of the West, have empowered Islamic fundamentalists and are responsible for the current battle for the hearts, minds and bodies of the Umma(the Islamic nation around the world).
RECONCILIATION was her compelling and convincing prescription for the country at the heart of the so-called 'clash of civilizations'.
It argues that democracy, economic development, moderation and modernity are the greatest threats to international terrorism.
She pledged to work with the United States and the West to ensure that Pakistan ceased to be the petri dish of international radicals, and to re-establish its bona fidesas a realistic and effective moderate alternative for one billion Muslims around the world.
BIC: