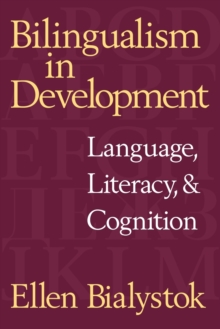 Bilingualism in development : language, literacy, and cognition
0521635071 / 9780521635073
Usually dispatched within 4 weeks
Bilingualism in Development is an examination of the language and cognitive development of bilingual children focusing primarily on the preschool years.
It begins by defining the territory for what is included in bilingualism and how language proficiency can be conceptualized.
Using these constraints, the discussion proceeds to review the research relevant to various aspects of children's development and assesses the role that bilingualism has in each.
The areas covered include language acquisition, metalinguistic ability, literacy skill, and problem-solving ability.
In each case, the performance of bilingual children is compared to that of similar monolinguals, and differences are interpreted in terms of a theoretical framework for cognitive development and processing.
The studies show that bilingualism significantly accelerates children's ability to selectively attend to relevant information and inhibit attention to misleading information or competing responses.
This conclusion is used as the basis for examining a set of related issues regarding the education and social circumstances of bilingual children.
BIC:
CFDC Language acquisition, CFDM Bilingualism & multilingualism, JMC Child & developmental psychology