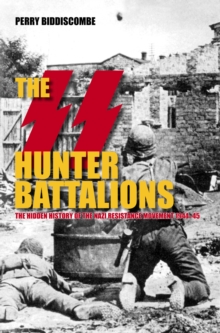 The SS hunter battalions : the hidden history of the Nazi Resistance Movement, 1944-45
0752439383 / 9780752439389
Stock expected by 30/07/2021
Conventional wisdom suggests that the Allies and the Soviets were the only side in the Second World War to support resistance movements.
However, based on recently-released archival sources, "The SS Hunter Battalions" shows that Hitler had his own version of the SOE and the OSS, and that the Nazis too encouraged underground resistance against their enemies, especially as Europe was liberated in 1944-5.
The Nazis tried to exploit the misguided activism of ex-collaborators, ethnic nationalists and rabid anti-communists, but their efforts were clumsy and they were hamstrung by the sordid reputation that they had gained as wartime occupiers.
In addition, the German commandos and spy-masters in charge of the project hindered their own efforts through infighting, ill-discipline and a misconceived appreciation of their ability to motivate violent dissent.
Nonetheless, the Germans supported as many as 700,000 anti-Soviet partisans during the last year of the war, and even in liberated France and Italy they bolstered small anti-Allied cells and bands. As Perry Biddiscombe demonstrates, such efforts were not mere transitory occurrences, but touched upon the origin of the Cold War and the roots of postwar 'Eurofascism'.
BIC:
1DFG Germany, 3JJH c 1939 to c 1945 (including WW2), HBJD European history, HBWQ Second World War, JWDG Irregular or guerrilla forces & warfare