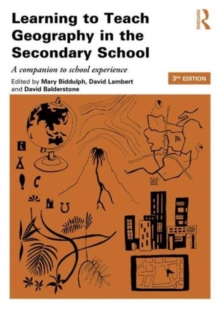 Learning to teach geography in the secondary school : a companion to school experience (Third edition)
113877944X / 9781138779440
25 cm xi, 349 pages : illustrations (black and white), map (black and white)
Previous edition: published as by David Lambert and David Balderstone. 2010.
Learning to Teach Geography in the Secondary School has become the widely recommended textbook for student and new teachers of geography.
It helps you acquire a deeper understanding of the role, purpose and potential of geography within the secondary curriculum, and provides the practical skills needed to design, teach and evaluate stimulating and challenging lessons. It is grounded in the notion of social justice and the idea that all students are entitled to a high quality geography education.
The very practical dimension provides you with support structures through which you can begin to develop your own philosophy of teaching, and debate key questions about the nature and purpose of the subject in school. Fully revised and updated in light of extensive changes to the curriculum, as well as to initial teacher education, the new edition considers the current debates around what we mean by geographical knowledge, and what's involved in studying at Masters level.
Key chapters explore the fundamentals of teaching and learning geography:Why we teach and what to teachUnderstanding and planning the curriculumEffective pedagogyAssessment Developing and using resourcesFieldwork and outdoor learningValues in school geographyProfessional developmentIntended as a core textbook and written with university and school-based initial teacher education in mind, Learning to Teach Geography in the Secondary school is essential reading for all those who aspire to become effective, reflective teachers. Praise for previous editions of Learning to Teach Geography in the Secondary School... 'This is a practical and visionary book, as well as being superbly optimistic.
It has as much to offer the experienced teacher as the novice and could be used to reinvigorate geography departments everywhere.
Practical activities and ideas are set within a carefully worked out, authoritative, conceptual framework.' - The Times Educational Supplement'This is a modern, powerful, relevant and comprehensive work...a standard reference for many beginning teachers on geography initial teacher training courses.' - Educational Review
BIC:
JNLC Secondary schools, JNU Teaching of a specific subject, YQG Educational: Geography
£27.99
RRP £34.99
The title has been replaced. To check if this specific edition is still available please contact Customer Care +44(0)1482 384660 or schools.services@brownsbfs.co.uk, otherwise please click 9781138386556 to take you to the new version.