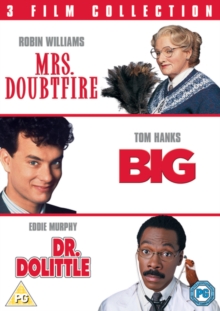 Big/Mrs Doubtfire/Dr Dolittle
James L. Brooks
,
Robert Greenhut
,
Gary Ross
,
Anne Spielberg
,
Howard Shore
,
Barry Sonnenfeld
,
Marsha Garces Williams
,
Robin Williams
,
Mark Radcliffe
,
Leslie Dixon
,
Randie Mayem Singer
,
Donald McAlpine
,
John Davis
,
Joseph M. Singer
,
David T. Friendly
,
Nat Mauldin
,
Larry Levin
,
Richard Gibbs
,
Russell Boyd
Triple bill of family comedies. In 'Big' (1989) 12-year-old Josh (David Moscow) wishes he was 'big' and wakes up to find that overnight he has developed into an adult male (Tom Hanks).
Kicked out of home by his mother (Mercedes Ruehl), who doesn't believe his story, man-child Josh quickly gets a job developing new ideas for toys, with much success.
He also finds himself successful with women - something he perhaps isn't quite ready to handle. 'Mrs Doubtfire' (1993) stars Robin Williams as Daniel Hillard, an actor who separates acrimoniously from his wife (Sally Field) and receives a court order limiting his visits to his children, 14-year-old Lydia (Lisa Jakub), 12-year-old Chris (Matthew Lawrence) and five-year-old Natalie (Mara Wilson).
Forced to improvise, Daniel dresses up as a Scottish nanny, Mrs Doubtfire, and spends time with his children undercover - as the carer paid to look after them by his ex-wife.
In 'Dr Dolittle' (1998), based on the children's stories by Hugh Lofting, John Dolittle (Eddie Murphy) rediscovers the remarkable childhood ability forced out of him by his disapproving father (Ossie Davis) - the ability to talk to animals.
Now a doctor with a young family, John's gift is reawakened after he nearly runs over a dog and it insults him.
Soon all kinds of animals are communicating with him and his waiting room begins to fill up with ailing pets seeking treatment.
John's colleagues, however, react to his gift with much the same lack of understanding as his father and try to have him committed to an asylum.
Commentary: Chris Columbus (Director)