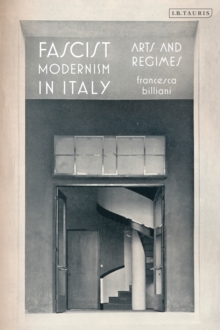 Fascist modernism : the arts under dictatorship
1784535230 / 9781784535230
Usually dispatched within 4 weeks
Between 1917 to 1975 Germany, Italy, Portugal, the Soviet Union, and Spain shifted from liberal parliamentary democracies to authoritarian and totalitarian dictatorships, seeking total control, mass consensus, and the constitution of a 'new man/woman' as the foundation of a modern collective social identity.
As they did so these regimes uniformly adopted what we would call a modernist aesthetic - huge-scale experiments in modernism were funded and supported by fascist and totalitarian dictators.
Famous examples include Mussolini's New Rome at EUR, or the Stalinist apartment blocks built in urban Russia. Focusing largely on Mussolini's Italy, Francesca Billiani argues that modernity was intertwined irrecoverably with fascism - that too often modernist buildings, art and writings are seen as a purely cultural output, when in fact the principles of modernist aesthetics constitute and are constituted by the principles of fascism.
The obsession with the creation of the 'new man' in art and in reality shows this synergy at work. This book is a key contribution to the field of twentieth century history - particularly in the study of fascism, while also appealing to students of art history and philosophy.
BIC:
3JJ 20th century, AB The arts: general issues, HBLW 20th century history: c 1900 to c 2000, HBTB Social & cultural history