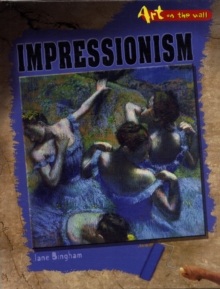 0431933251 / 9780431933252
29 cm 48 p. : ill. (chiefly col.)
How did the Impressionists get their name? Who were the most famous Impressionists? Did the Impressionist style have a lasting impact? 'Impressionism' answers all these questions. It also discusses how and why the Impressionist movement began, looks at how the Impressionists captured the changing effects of light and color in nature, and examines the different subjects Impressionist artists chose for their paintings. 'Art on the Wall' is an exciting and informative series that explores a range of art movements and styles.
Each title in the series looks at the history behind the movement and discusses the techniques used by its artists.
The text is supported with stunning paintings and other artworks that illustrate each art style.
The titles also include biographies of well-known artists and try-it-yourself activities that encourage readers to create their works of art using the techniques of the movement.
BIC:
4KHN For National Curriculum Key Stage 3, 4KHT For National Curriculum Key Stage 4 & GCSE, YNA Art: general interest (Children's / Teenage)