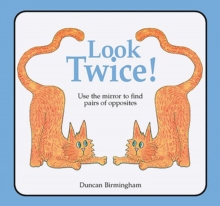 Look Twice : Use the Mirror to Find Pairs of Opposites
0906212863 / 9780906212868
36 pages, colour illustrations
A card mirror is the key to this amazing exploration of visual and verbal connections.
Each of the pictures can be transformed by means of the mirror into a pair of opposites.
Concepts like "open and shut," "tidy and untidy," "ancient and modern" are each illustrated by placing the mirror in just the right places on what seem to be perfectly normal pictures.
Much ingenuity has gone into creating these pictures and Duncan Birmingham's work will give great delight to children of 5 and well upwards.
Probably many adults too.
BIC:
5AH Interest age: from c 7 years, YNVP Puzzle books (Children's / Teenage), YZ Stationery & miscellaneous items (Children's / Teenage)