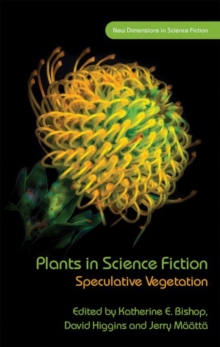 Plants in Science Fiction : Speculative Vegetation
1786835592 / 9781786835598
138 x 216 mm 272 pages, No
Plants have played key roles in science fiction novels, graphic novels and film.
John Wyndham's triffids, Algernon Blackwood's willows and Han Kang's sprouting woman are just a few examples.
Plants surround us, sustain us, pique our imaginations and inhabit our metaphors - but in many ways they remain opaque.
The scope of their alienation is as broad as their biodiversity. And yet, literary reflections of plant-life are driven, as are many threads of science fictional inquiry, by the concerns of today.
Plants in Science Fiction is the first-ever collected volume on plants in science fiction, and its original essays argue that plant-life in SF is transforming our attitudes toward morality, politics, economics and cultural life at large - questioning and shifting our understandings of institutions, nations, borders and boundaries; erecting and dismantling new visions of utopian and dystopian futures.
BIC:
APFA Film theory & criticism, DSBH Literary studies: from c 1900 -, FL Science fiction