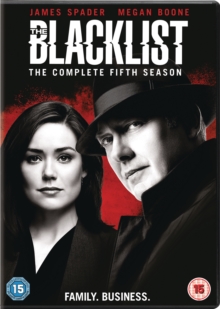 The Blacklist: The Complete Fifth Season
English, Arabic, Danish, Finnish, Norwegian, Spanish, Swedish, Turkish
(15) Suitable for 15 years and over.
All 22 episodes from the fifth season of the American crime thriller starring James Spader and Megan Boone.
When former government agent turned fugitive Raymond 'Red' Reddington (Spader) suddenly decides to surrender to the FBI after years of evading capture, Assistant Director Harold Cooper (Harry Lennix) wonders why and, more importantly, why now.
As Red reveals to Cooper that he has access to other wanted fugitives and can help the FBI to track them down, Cooper's intrigue gets the better of him and he allows Red into the bureau.
In this season, Red attempts to pick up the pieces of his ruined empire with a new case surrounding blacklister Smokey Putnum (Michael Aronov), the romance between Aram (Amir Arison) and Samar (Mozhan Marnò) heats up and Cooper asks Red for his help on a personal mission.
The episodes are: 'Smokey Putnum', 'Greyson Blaise', 'Miss Rebecca Thrall', 'The Ending', 'Ilyas Surkov', 'The Travel Agency', 'The Kilgannon Corporation', 'Ian Garvey', 'Ruin', 'The Informant', 'Abraham Stern', 'The Cook', 'The Invisible Hand', 'Mr. Raleigh Sinclair III', 'Pattie Sue Edwards', 'The Capricorn Killer', 'Anna-Gracia Duerte', 'Zarak Mosadek', 'Ian Garvey: Conclusion', 'Nicholas T.
Moore', 'Lawrence Dane Devlin' and 'Sutton Ross'.
Commentary: Audio commentaries
Other Documentary: 'Celebrating 100 Episodes'