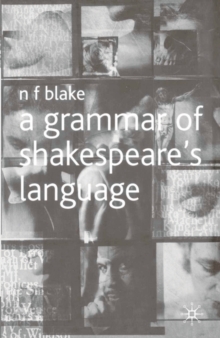 A grammar of Shakespeare's language
0333725913 / 9780333725917
postgraduate Learn More
research & professional
undergraduate
N.F. BLAKE was Chair of English Language at the University of Sheffield until his retirement in 1999. He is currently a Research Professor at De Montfort University, Leicester. He has written on many topics in English Language and his extensive output on Shakespeare includes The Language of Shakespeare.
Although numerous books on Shakespeare are published every year, his language is a neglected topic.
Yet an understanding of how his language works is fundamental to appreciating every aspect of his work.
In this study of the grammar of Shakespeare's language, a detailed analysis is given.
Steering clear of linguistic jargon it includes not only traditional features such as the make up of clauses and differing parts of speech, but also language in use in various forms of discourse.
BIC:
2AB English, CFK Grammar, syntax & morphology, DSGS Shakespeare studies & criticism