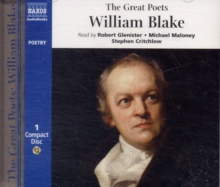 9626344725 / 9789626344729
Stock expected by 18/04/2020
4 3/4 in : digital, stereo
Compact disc. Read by Robert Glenister, Stephen Critchlow and Michael Maloney.
Naxos AudioBooks begins its new series of "Great Poets" - represented by their most popular poems on one CD - with William Blake, whose 250th anniversary of birth falls this year.
This CD contains all of his most popular works - "Tyger", "The Auguries of Innocence", "Jerusalem", as well as some lesser-known poetry that demonstrates the range and power of his verse.
They are strikingly read by Robert Glenister, Michael Maloney and Stephen Critchlow.
BIC: