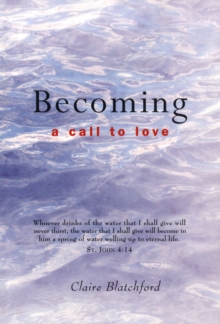 Becoming : a call to love
1584200227 / 9781584200222
Ten years ago, 'Turning' was published anonymously.
It is a book of spiritual guidance, containing meditations heard inwardly in the heart of a faithful listener during moments of prayer.
Many readers responded gratefully to its profoundly simple message: 'The spirit is very near.
Only turn, ask, and listen.' However, 'Turning' was only a selection of all that the author received. 'Becoming', a treasury of spiritual wisdom, collects all the messages given to Claire Blatchford, who now feels it is appropriate to reveal her name.
Anyone needing advice on how to draw closer to the spiritual world, anyone whose life requires difficult answers, anyone who is in pain or suffering psychologically will find real sustenance -- 'fresh food for the soul' -- in Becoming: A Call to Love.
BIC: