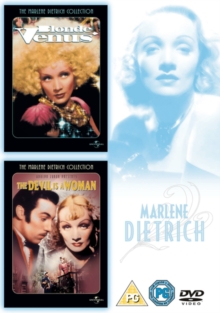 Blonde Venus/Devil Is a Woman
Double bill of classics starring 'The Queen Of The World' - Marlene Dietrich.In 'Blonde Venus' (1932) After giving up her dreams of stardom to marry, aspiring actress Helen Faraday (Marlene Dietrich) discovers that her scientist husband, Edward Faraday (Herbert Marshall), is suffering from radium poisoning.
In order to raise the cash for a cure Helen finds work as a cabaret hostess, and is romanced by wealthy playboy Nick Townsend (Cary Grant).
Nick gives Helen the money for her husband's treatment, and she takes up residence in her new beau's empty mansion - only for her indiscretion to be discovered when Edward recovers more speedily than she expected. 'The Devil Is A Woman' (1935) is a film told in flashbacks of an older man's obsession for Concha Perez (Dietrich) a femme-fatale who can belong to no-one and walks her life's path using men's hearts for paving.
The backdrop is Carnaval in Spain. In a café, Don Pasquale (Edward Everett Horton) the cuckolded older man details his encounters with the heartbreaker that his younger friend Antonio (Cesar Romero) has only just met at the parade.
Forewarned, the young man swears he will avoid the fate outlined by the older man but rushes headlong all the same to his evening rendevous and into the grip of this siren.
A dreamlike story of frustrated, lost romance, spoken in the past tense, never really resolved.