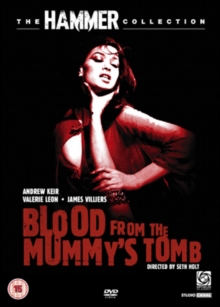 Blood from the Mummy's Tomb
(15) Suitable for 15 years and over.
Classic British horror from directors Seth Holt and Michael Carreras.
When the tomb of ancient Egyptian princess Tera (Valerie Leon) is disturbed by a group of archaeologists in Egypt, her evil presence is let loose on the world once more.
As the archaeologists, led by Professor Julian Fuchs (Andrew Keir), begin to die one by one, it soon becomes apparent that Fuchs' own daughter, Margaret (also Leon), has been possessed by the mummy's spirit.
The cast also includes James Villiers, Hugh Burden and George Coulouris.