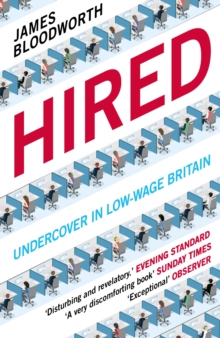 Hired : six months undercover in low-wage Britain (Revised and updated [edition])
1786490161 / 9781786490162
Longlisted for the Orwell Prize, 2019 ____________The Times Round-up of the Best Non-fiction Paperbacks, 2019The Times Best Current Affairs and Big Ideas Book of the Year, 2018For many in modern Britain, careers are low-paid and high-risk, a series of short-term jobs with no security and little future.
In this essential expose, James Bloodworth goes undercover to investigate how working life has become a waking nightmare.
From the Orwellian reach of an Amazon warehouse to the trials of a care worker, Hired is a clear-eyed analysis of a divided nation and a riveting dispatch from the very frontline of low-wage Britain. 'An extraordinary and unsettling journey into the way modern Britons work.
It is George Orwell's Down and Out in Paris and London for the gig-economy age' MATTHEW D'ANCONA, author of Post-Truth
BIC:
1DBK United Kingdom, Great Britain, JFFA Poverty & unemployment, JFSC Social classes, KCF Labour economics