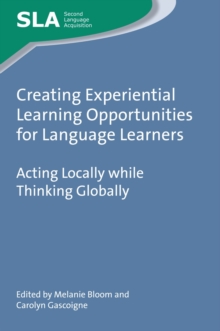 Creating experiential learning opportunities for language learners : acting locally while thinking globally
1783097302 / 9781783097302
While much research has been done on experiential learning opportunities in study abroad settings, there are fewer publications devoted to experiential learning in the domestic context.
This volume aims to fill that gap by providing a collection of chapters highlighting research-based innovations in experiential learning in domestic settings.
The book focuses on three experiential learning contexts: community engagement experiences, professional engagement experiences and other unique experiential contexts such as language camps and houses.
The collection focuses on the US context but the research projects and curricular innovations described here can serve as models for educators working in other local contexts and will encourage interested practitioners to explore experiential learning opportunities in their local areas.
It will also provide the reader with a better understanding of this growing field of inquiry and should appeal to graduate students and researchers who are interested in experiential language learning.
BIC: