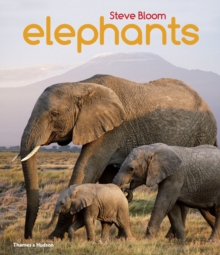 Elephants : a book for children, with 80 colour photographs
0500650551 / 9780500650554
29 cm 63 pages : illustrations (colour)
Steve Bloom is an internationally bestselling wildlife photographer and the author of Thames & Hudson's bestselling publication, Elephant!.
Here, eighty of his stunning photographs and an entertaining text by David Henry Wilson capture every aspect of this wonderful creature's life and world.
Why do elephants flap their ears? How much do they eat? Why do they roll in mud? This book answers these questions and many more, including intriguing facts about elephants' trunks, tusks and tails, their families and friends, what they get up to from dawn to dusk, and the special relationship between elephants and humans and elephants and other animals.
BIC: