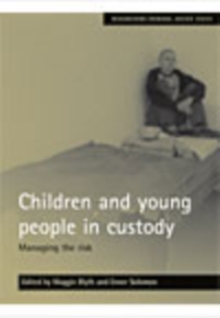 Children and young people in custody : Managing the risk
1847422616 / 9781847422613
Usually dispatched within 4 weeks
170 x 245 mm 112 pages, No
Over the last decade, the reformed youth justice system has seen increases in the numbers of children and young people in custody, a sharp rise in indeterminate sentences and the continuing deaths of young prisoners.
The largest proportion of funding in youth justice at national level is spent on providing places for children and young people remanded and sentenced to custody. The publication of the Youth Crime Action Plan during 2008 and the increasing emphasis on early intervention provides a framework to consider again the interface between local services and secure residential placements.
This report brings together contributions from leading experts on young people and criminal justice to critically examine current policy and practice.
There are vital questions for both policy and practice on whether the use of custody reduces re-offending or whether other forms of residential placements are more effective long-term.
The report looks at current approaches to the sentencing and custody of children and young people, prevention of re-offending and a range of alternative regimes.
BIC: