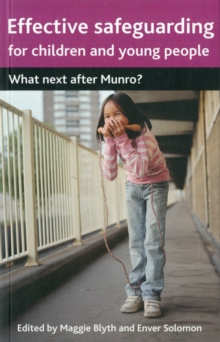 Effective safeguarding for children and young people : what next after Munro?
144730490X / 9781447304906
The number of children entering the child protection system has risen dramatically in the last three years with implications for children's services and partner agencies.
This timely volume takes a critical look at the impact of the Munro Review (2011) on child protection and the Government's response.
It looks at questions including how effective Local Safeguarding Children Boards are in providing the necessary scrutiny to ensure children are safe, how the early offer of help at local level might reduce the numbers of children at the critical end of the spectrum and whether reducing regulation from the centre will result in better outcomes for the most vulnerable?
Moreover, it also considers those young people who traditionally bypass child protection services but remain at risk of harm.
These are critical questions for both policy and practice in understanding the reforms Munro states are required.
Contributions from leading experts working in the child protection system review current safeguarding policy and explore the future after Munro.
BIC: