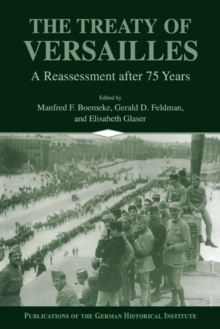 The Treaty of Versailles : a reassessment after 75 years
0521628881 / 9780521628884
Usually dispatched within 4 weeks
research & professional Learn More
academic/professional/technical
Reprint. Originally published: 1998.
This book on the Treaty of Versailles constitutes a new synthesis of peace conference scholarship.
It illuminates events from the armistice in 1918 to the signing of the treaty in 1919, scrutinizing the motives, actions and constraints that informed decision-making by the French, American and English politicians who bore the principal responsibility for drafting the peace settlement.
It also addresses German reactions to the draft treaty and the final agreement, as well as Germany's role in the immediate postwar period.
The findings call attention to diverging peace aims within the American and Allied camps and underscore the degree to which the negotiators themselves considered the Versailles Treaty a work in progress.
A detailed examination of the proceedings from the point of view of the main protagonists forms the core of the investigation.
BIC:
3JJ 20th century, HBJD European history, HBLW 20th century history: c 1900 to c 2000