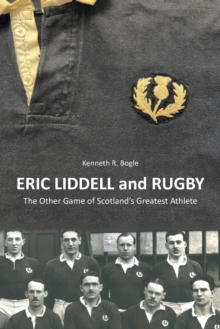 Eric Liddell and Rugby : The Other Game of Scotland's Greatest Athlete
1839759054 / 9781839759055
Usually dispatched within 4 weeks
152 x 229 mm, 260 grams 138 pages
Immortalised in the award-winning film, Chariots of Fire, Eric Liddell (1902-1945) was Scotland's greatest track athlete.
He won bronze and gold medals at the Paris Olympic Games in 1924 but turned his back on sporting glory to become a Christian missionary in China.
It is less well-known that Eric Liddell was also an international rugby player who represented Scotland seven times in the early 1920s.
Published to celebrate the centenary of his first Scottish appearance, this fascinating book tells the largely untold story of Eric Liddell's rugby career.
It begins with his early days as a schoolboy player at Eltham College, and then as a senior with Edinburgh University, Edinburgh and Scotland.
Illustrated with rare archive images and memorabilia, this book recalls famous days in Scottish rugby and a significant but little-known aspect in the life of a Scottish sporting icon.
BIC:
BGS Biography: sport, WSJF1 Rugby Union, WSK Track & field sports, athletics